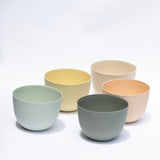 Large Jupiter Planter - Very Light Orange
The Medium Jupiter Pot/Planter is handmade in Los Angeles from unglazed colored earthenware clay. Each one is slip cast and polished to create a beautiful smooth matte finish. Perfect for the home or outside, with or without a plant!
Each piece is crafted by hand - this means slight irregularities in size and texture may occur. This is to be expected with any handmade product, however, and is part of what makes each product truly unique and special. The earthenware clay is tinted throughout, as opposed to simply coloring the surface with a glaze. This gives a unique depth of color to each individual piece. They are also vitrified, which means they can be used like a regular bowl for the no drainage hole option.
Size: 6"h (15.2cm) x 8.5"d (21.3cm)
Handmade in Los Angeles, California  
Material: Colored Earthenware Clay
We are able to deliver across the US and internationally. International orders may be subject to customs charges when entering each country.